Selected for DER GREIF Guest Room
2019年2月20日

ドイツの写真誌「DER GREIF」のmonthly online exhibition「Guest Room」で、Rbooks発行の写真集『XS』(Ryo Yamanaka, 2018)収録の写真作品がセレクトされました。
「Bread & Roses // Kitsch Can't Wait」をテーマに、MATTE Magazineの編集長Matthew Leifheit氏によってキュレーションされました。

Der Greif 'Guest Room' Selected by Matthew LeifheitDer Greif 'Guest Room' Selected by Matthew Leifheit

https://dergreif-online.de/guest-room/matthew-leifheit/
A photograph from our photobook 'XS'(Ryo Yamanaka, 2018)is selected for the monthly online exhibition 'Guest Room' of DER GREIF.
The selection, on the concept of 'Bread & Roses // Kitsch Can't Wait', has been curated by Matthew Leifheit, Brooklyn-based editor-in-Chief of MATTE Magazine.
Matthew Leifheit was formerly the photo editor of VICE, and has also written criticism and interviews for Aperture Foundation, Foam Fotografiemuseum Amsterdam , Art F City and TIME LightBox.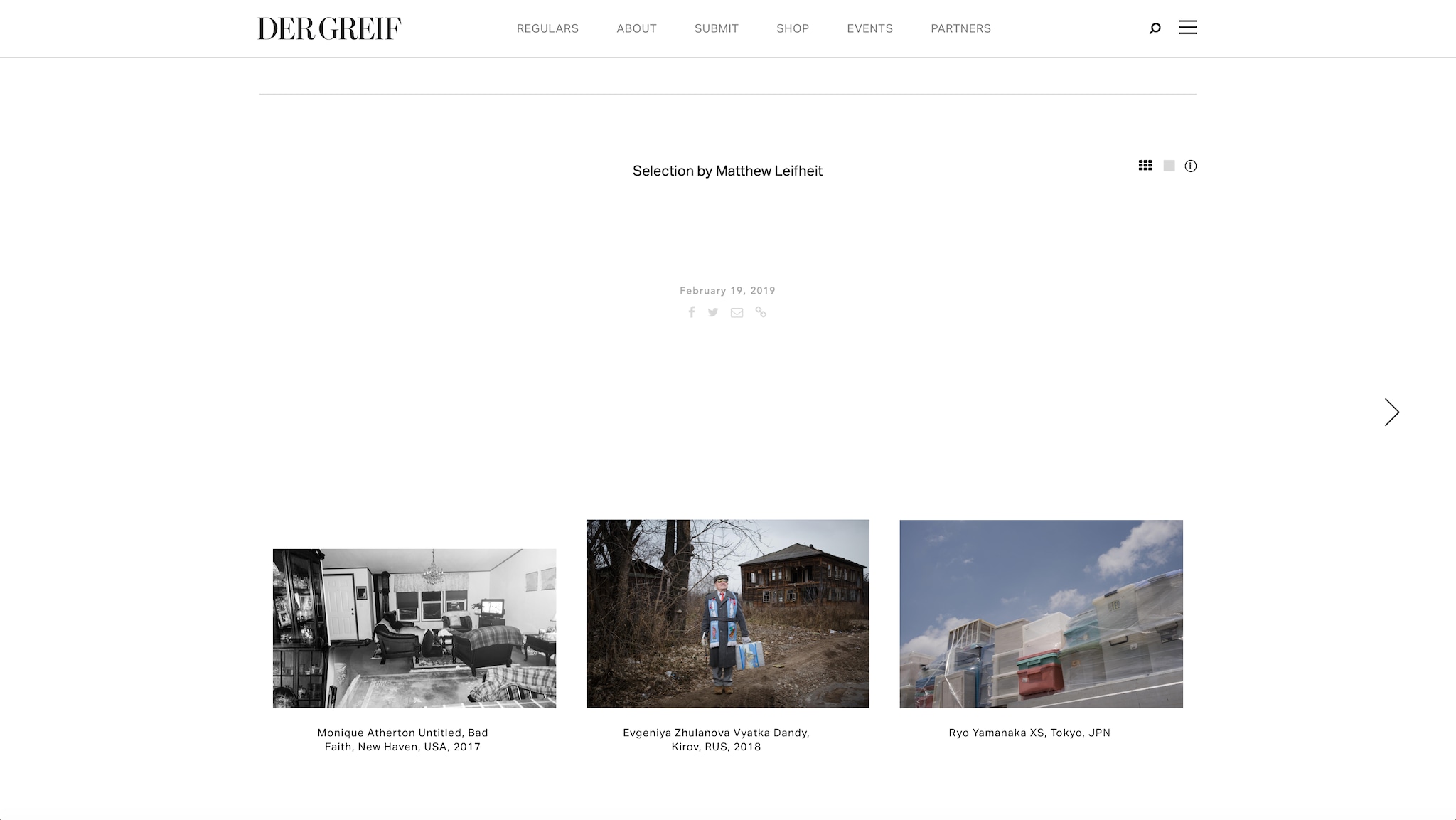 TOKYO ART BOOK FAIR Ginza Edition
2019年1月7日

東京・銀座のGinza Sony Parkで今春、初開催される「TOKYO ART BOOK FAIR: Ginza Edition」に出展します。Rbooksは会期最終週末の5th Week|2019年4月6日(土)〜 4月7日(日)の二日間、ブース出展を行います。
TOKYO ART BOOK FAIR: Ginza Edition

会場:Ginza Sony Park
住所:東京都中央区銀座5-3-1
会期:2019年3月8日(金) ~ 4月7日(日) 10時~20時
https://tokyoartbookfair.com/ginzasonypark/
"The TABF: Ginza Edition will be envisioned as a space that's a part of our everyday lives: one that connects viewers with the artists, publishers and galleries – earnest in their daily endeavors – along with the works they've created.
A park is somewhere that anyone might head to in search of refreshment or inspiration: and now art books are waiting for you there, too. We invite you to enjoy this TABF: Ginza Edition at Ginza Sony Park as an opportunity to experience a new, expansive world."
Organized by the Tokyo Art Book Fair & Ginza Sony Park
When: Mar 8 – Apr 7, 2019 from 10:00 – 20:00
Where: Ginza Sony Park 5-3-1 Ginza, Chuo-ku, Tokyo
https://www.ginzasonypark.jp/e/